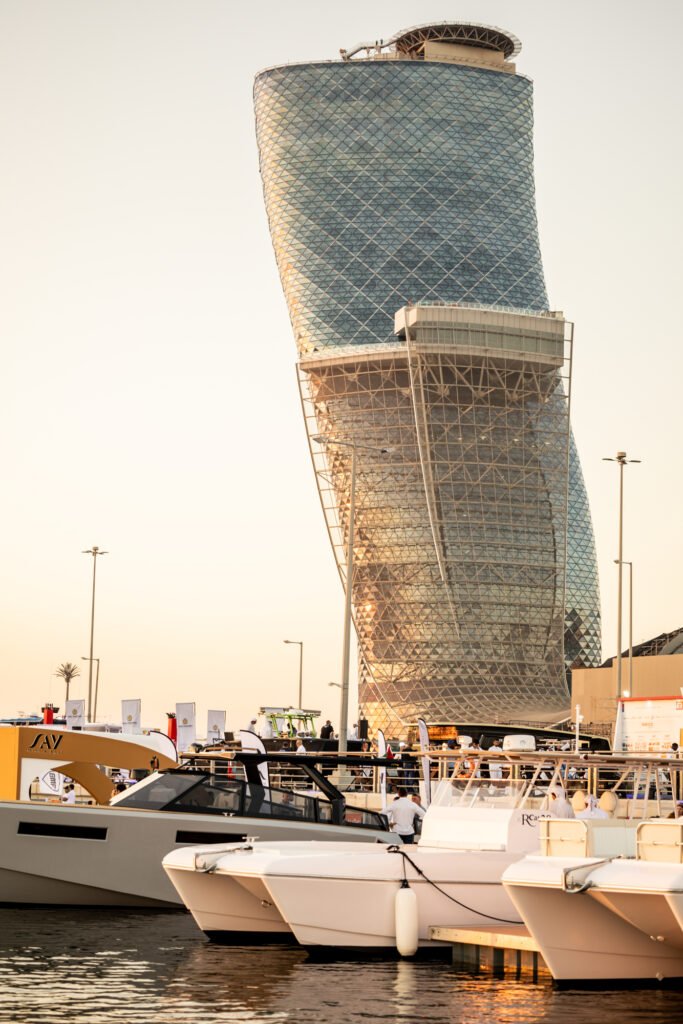 Under the slogan 'Life On The Water', Abu Dhabi International Boat Show (ADIBS), has unveiled a refreshed brand architecture and new identity for its 5th edition taking place from 9-12 November 2023 at ADNEC Marina, Abu Dhabi, UAE.
Under the patronage of His Highness Sheikh Hamdan bin Zayed Al Nahyan, Ruler's Representative in Al Dhafra Region, the new identity truly articulates the spirit of Abu Dhabi International Boat Show and reaffirms a commitment to Abu Dhabi's economic vision and the wider maritime ecosystem.
Abu Dhabi is a place of innovation and unparalleled experiences, a vibrant business and events hub, and an attractive destination with a diverse portfolio of unique offerings. Abu Dhabi International Boat Show reflects this by making the Show an unmissable lifestyle experience, offering an exclusive opportunity to explore a fantastic line-up of yachts, sailing boats, house boats, fishing, water sports and marine equipment presented by leading international and local brands.
Whether you are a yachting enthusiast, a boat owner or simply looking for a family day out in Abu Dhabi, there are a number of reasons to visit the latest industry gathering for boats, yachts, leisure marine and fishing.
Discover the latest, accessible, affordable, and flexible ways to enjoy all aspects of marine leisure and water sports with a whole range of opportunities to get out on the water at the Show. Learn about the latest marine technology whilst enjoying entertainment, attractions, and the serene and timeless beauty of Abu Dhabi, making the Show a true experience of life on the water.
Link to purchase tickets: https://tickets.virginmegastore.me/ae/voucher/19867/abu-dhabi-international-boat-show
Promo code: B1G1. With this promo code 2 bronze adult tickets can be purchased for AED 60. Each adult ticket gives free access to 3 children.
Link to assets (includes logo, photos, videos: https://go.wetransfer.com/t-hv02qJvEYe
ATTRACTIONS AT ABU DHABI INTERNATIONAL BOAT SHOW THIS YEAR INCLUDE:
CALL OF THE OCEAN PARADE
An unforgettable journey into the ocean depths that will conquer your heart with its radiant magic.
A magical parade of light and colour that will take you into an underwater dreamscape. Innovative lighting techniques, artistic storytelling, and a fusion of technology that captures the essence of the sea and delivers a spectacle that celebrates the world's most beautiful and important ecosystem.
INTO THE DEEP – VR EXPERIENCE
Whether you're ocean-curious or a veteran diver this experience puts you face to face with the underwater world.
Using stunning visuals, this underwater VR experience showcases marine encounters certified divers spend lifetimes chasing. Experience an encounter with a Great White, swim through underwater caves, coral reefs and shipwrecks that have only been seen by skilled divers…until now!
NAVIGATION HUB brought to you by JLS Yachts
Come aboard and make your visit truly memorable.
Join us in the Navigation Hub and select a free ride in one of our exclusive range of motorboats, ribs, abras and wide range of vessels and nautical experiences.
Experience life in the water and immerse yourself in an ocean of unparalleled views, moments of fun and incredible boating experiences.
Make your reservations at the Navigation Hub (near Marina Bridge 3)
LET'S FISH FOR THE WORLD! brought to you by the IGFA
100,000 youth around the world have learned to fish in this once in a lifetime experience brought to you by the International Game Fish Association, the most widely recognized authority on game fish in the world.
The Passport to Fishing program is a signature hands-on and interactive method teaching kids to fish that includes education station materials to teach basic tackle, knot tying, conservation, environmental stewardship, safety and rods and reels for young anglers to test their newly acquired skills by going fishing.
Each child will receive a passport, an IGFA sticker, and a certificate on behalf of the IGFA's effort to teach 100,000 youth around the world to fish.
ENJOY A SEAFOOD EXTRAVAGANZA AT THE SHOW THIS YEAR!
Live lobster cooking
Live scallop cooking
Live sushi demonstrations
Live ice carving (boats)
Live mocktail bar
Pizza-making activities for kids
SAVOUR DELECTABLE BITES BROUGHT TO YOU BY:
Knafeh with the Bearded Bakers
Barca by Bar Biscotti
Samkeh Hurra Spicy Fish
COME ENJOY HERITAGE DISPLAYS AND WORKSHOPS BROUGHT TO YOU BY EXPERIENCE ABU DHABI!
Fishing Net Crafting Workshops
Traditional Rope Crafting Workshops
Crafting Diving Basket "Al Dean"
Oyster Opening Workshops
IMMERSE YOURSELF IN VIBRANT MUSIC TRACKS BROUGHT TO YOU BY
DJ Akmaral
DJ Hype
DJ Sara G
DJ Raphy J
ENJOY LIVE MUSIC ACTS BY
Singer Eirini
Guitarist and Singer Felula
Guitarist and Singer Ibby VK
Guitarist and Singer Matt Palmer
BRING YOUR KIDS TO THE SHOW! WE'VE GOT SOME EXCITING ACTIVITIES FOR THEM TO ENJOY!
Arts & Crafts
Live Entertainment / Performers
Participation Games
THE JAYWUN EXPERIENCE brought to you by The Environment Agency
Visit the most advanced research vessel in the Middle East
Jaywun – a term that symbolises one of the finest and most valuable types of pearls – is the most advanced research vessel in the Middle East.
The Jaywun Experience is an unmissable opportunity to visit the vessel and engage with the scientists who work aboard this pioneering platform for marine research.
Come aboard and experience the UAE's pearl in the Arabian Gulf for marine studies and explore the vessel which can accommodate 30 people, is equipped with the latest research equipment, six laboratories and a remotely operated submarine vehicle.
CAPITAL STAGE brought to you by The Environment Agency
Join us in an engaging live stage area devoted to curiosity, reason, wonder and the pursuit of knowledge.Featuring recognizable, well-loved speakers, captivating storytellers and entertainment for all ages, Capital Stage provides the platform that recognizes and celebrates high achievers in the nautical and maritime industry, the pathfinders, the pioneers, and the people and the organizations that are setting new standards of excellence.
INNOVATION ZONE in partnership with YACHTING VENTURES and Borrow a Boat
Engage directly with the brilliant minds behind the most exceptional ventures.
Curated by Yachting Ventures, the Innovation Zone is the destination for those seeking the latest innovations and trends and where enthusiasts and professionals can engage directly with the brilliant minds behind the most exceptional ventures.
The Zone will bring together exhibitors and innovations from 8 countries renowned for their ground-breaking contributions.
In addition, the Innovation Zone will host live presentations that will delve into topics such as current and future trends in design, innovative solutions, and sustainable projects.
THE FLYBRIDGE Connect and Relax
Unwind in a unique stylish retreat full of character in the heart of ADIBS. An exceptional offering, a stunning range of bubbles, live music, tastings, and bubbles masterclasses in an ideal setting not to be missed.
Other facts about the Show
137 Exhibitors

Over 50 boats on the marina

Over 100 Boats at the Show including, RIBS, Catamarans, House boat, Superyachts, motor boats, sport boats, fishing boats

!00's of fishing equipment products

100's of marine equipment products to upgrade your boat

15+ regional Launches of boats – never seen in the UAE before

GreenTech exhibitors promoting the best environmental ways of boatings and the latest in innovative products for leisure marine.
ADIBS 2023 – Facts & Fingers