* Luxury superyacht brands are situated at Dubai Harbour to launch new vessels, create business connections, and strengthen strategic partnerships
* After a two-year hiatus, Dubai International Boat Show is back and better than ever, providing the global maritime industry with a perfect place to reunite post-pandemic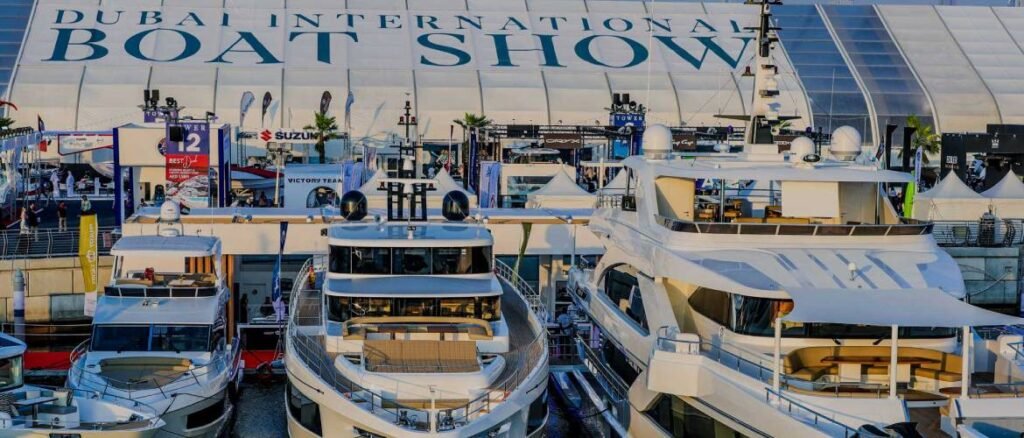 Dubai, UAE – 11 March 2022: Host toadedicated Superyacht Avenue, the ongoing Dubai International Boat Show 2022 – the Middle East's largest and most-popular leisure marine event – is showcasing some of the latest ultra-luxury vessels this weekend at Dubai Harbour, with a stellar lineup of brands and exhibitors from across the globe.
As the weekend approaches, the show is going full steam ahead with an incredible line up of jaw-dropping yachts and maritime products on display. For the first time in its 28 editions, DIBS is being hosted at Dubai Harbour, the largest marina in the Middle East and one that boasts 700 berths as well as the city's first dedicated superyacht marina capable of housing watercraft up to 160m in length.
Ferretti Group, a pioneer in the world of design and construction of luxury yachts, is showcasing four of their vessels – the Navetta 30m from Custom Line, 8X and 9X from Pershing; and the Riva 100 by Riva. Alessandro Tirelli, Sales & Marketing Director Serial Business at Ferretti Group said: "It is so significant for Dubai International Boat Show to have a dedicated superyacht space and the facilities here are stunning. It is important not just for the exhibitors but also the public to have somewhere we can display our collection – in the future, we cannot wait to bring even bigger yachts."
Elsewhere, Sanlorenzo – a leading Italian shipbuilder who specialise in both luxury yachts and superyachts – is attending Dubai International Boat Show displaying one of their luxury vessels, the SX88 which is making its debut in the region standing at 26.7m long. The extravagant accommodation can host up to eight guests and three crew members.
"It's good to be back and the new location at Dubai Harbour is beautiful," said Luca Cristino, Vice President Sales & Marketing, Sanlorenzo Spa. "The Middle East market is growing massively, not only for local customers but for also for international buyers, and it also continues to draw a broader international audience."
Yachting enthusiasts can also experience the 90m superyacht Kairos from Dutch innovator Oceanco, while homegrown brand Gulf Craft is exhibiting, among others, its Majesty 120. Other exclusive brands such as Princess, Sunreef, Lürssen, Sanlorenzo Spa, Azimut, and Benetti SPA give event-goers a truly unrivalled choice of luxury vessels to visit all in one place.
With the MENA region boasting the world's second-highest fleet-to-billionaire ratio and Dubai's maritime sector accounting for AED 26.9bn of the emirate's GDP, the new feature further enhances the luxury lifestyle sector as brands use the exhibition to secure sales and create lasting business connections.
Dubai International Boat Show 2022 runs from 9th-13th March at Dubai Harbour, the event's Venue Host and VIP Registration Partner, and registration must be completed in advance via www.boatshowdubai.com
About Dubai International Boat Show
Dubai International Boat Show, the most trusted and established marine industry exhibition in the Middle East, is a showcase of yachts and boats from both local and international builders, together with the latest innovations in marine equipment and accessories. The multi-award-winning show showcases the latest leisure boats, equipment, and associated services in the Middle East. Exhibitors include both local and international boat manufacturers, as well as the latest innovations in marine equipment and supplies.
About Dubai World Trade Centre (DWTC)
DWTC counts 40 years' experience delivering world-class events in the Middle East and provides local, regional, and international exhibitors with unmatched expertise and in-depth market knowledge. Our team organises more than 20 of the largest and most successful international and regional shows in the Middle East, providing an ideal platform for business development in the region. Our commitment to on-going innovation within the exhibition industry has supported the rapid growth and development of a wide range of business-to-business and business-to-consumer shows and delivered consistent satisfaction to exhibitors and visitors. DWTC works with the leading trade bodies and industry associations to ensure all exhibitions deliver full value and are built upon the real needs of their specific sector.
For more information, please contact:
James Dartnell – PR and Media Relations Manager, Dubai World Trade Centre
T: +971 4 308 6354
Email: James.Dartnell@dwtc.com
Mohamed Zaki – Senior Communications Executive, Action Global Communications
T: +971 4 390 2980
Email: Mohamed.z@actionprgroup.com
Superyacht Avenue Turns Heads At DIBS 2022