Marina Kornati, Biograd na Moru, Croatia
26.–30. 10. 2022.
We are excited to be off to Biograd Boat Show 2022 as Media Partners!
It would be a great pleasure to meet you and present Azimouthio Yachting Info Directory, well known as the Captain's Bible!
We can talk and find the most effective marketing options for your business and be sure that our meeting will be extremely beneficial!
Contact us to book an appointment at our Stand with our team or simply come by and say hello!
AZIMOUTHIO Yachting Info Team
Antonia Sikic 
Mob: +385 95 397 3435
 
Helena Princivali   
Mob: +385 98 956 4835

adriatic@azimouthio.com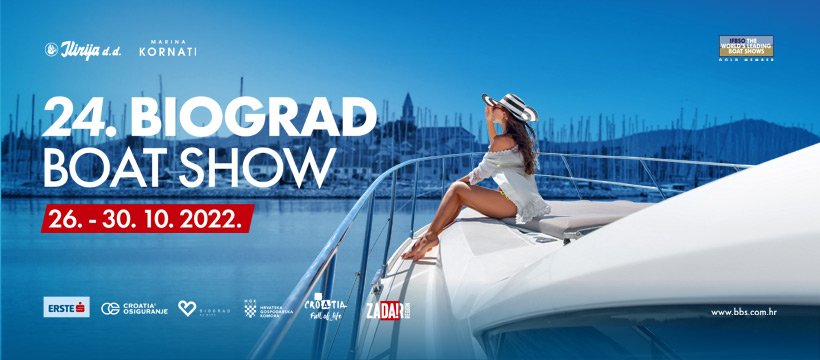 One week to go! Another Record breaking show!
This year Central Europe's in-water show celebrates its 24th year, following 21 years of record breaking shows and two highly successful pandemic shows. This year's show will be bigger than ever and will be held at Marina Kornati, in Biograd, Croatia from 26-30. 10. 2022, with more than 300 exhibitors and 300 boats on display.
More Vessel Premieres than Ever
This year's show will introduce more than 40 new vessels ranging up to 22 m. All vessel segments will see an increase in vessels, with the luxury motor yacht segment seeing the biggest gains. Many new Croatian built models will be on display including the new Monachus 70 Fly, which is the largest production yacht in the history of Croatian boatbuilding.
Detailed description of selected vessels on the following link:
www.dropbox.com/scl/fo/021076i4x35j6fnx1sfsp/h
Changes in the show Layout
Hall B in Marina Kornati West will see the introduction of a new 600m2 "Pop Up Megastore" operated by Marina Stores which will offer direct sales to the public. The Croatia Charter Expo will be the biggest ever, and gets a new expanded Hall D location in Marina Kornati North, closer to the exhibiting charter vessels and the Captain's Club meeting facilities. New investments in the show include a second pontoon bridge in Marina Kornati North linking the main pier with pier 6 for easy access and better traffic flow, as well as a widening of the main pontoon bridge linking the north and west marinas.
Full Entertainment Program Returns
The legendary Biograd Boat Show entertainment program returns to its former glory with a full program on site each night, free of charge. The Saturday program begins with a spectacular fireworks show by Orion in front of Hall B followed by a concert by Neno Belan and the Fiumens, and ending with a special Samba and You Party. On Friday night in Hall B, the "Get the Funk Out" night will feature the Disco Magic Band with a top sound and light production, partnered with DJ Mario to lift the spirits of the lively crowds that faithfully make the Biograd Boat Show like no other. The Marina Kornati Restaurant will also host a music program each night, as well as hotel Ilirija.
Biograd B2B and the Croatian Chamber of Economy
As the largest gathering point for the Croatian nautical industry, the innovative Biograd B2B business to business networking event allows business visitors to interact with other B2B participants. At the core of the event, is the 6th annual Croatian Nautical Days from 26.-28. 10. 2022 organized by the Croatian Chamber of Economy, featuring industry association meetings, business presentations and networking social events. As Part of Biograd B2B, the Croatia Charter Expo is bigger than ever and expands to a new Location in Hall D in the north Marina, where fleet operators representing over 3000 charter yachts will meet with brokers and suppliers. This is the biggest Charter B2B event of any boat show. The special terms and organization are made possible by generous support for the Croatia Charter Expo has been provided by the City of Biograd, Croatian Tourist Board, and the Chamber of Economy.
Festival of Authenticity
A popular feature of the Biograd Boat Show where artisanal vendors offer a curated selection of fine foods, natural cosmetics and handicrafts. The festival runs from Thursday until Sunday in Hall B.
Central Europe's In-water Show
This is Central Europe's in-water show, attracting many visitors and exhibitors from neighbouring countries, and is the biggest meeting point for Croatia's nautical industry, marking the end of the boating season and the start of a new business year. In 2021 the show saw a record number of international exhibitors, with even more expected this year. grow.
The Boat Show Experience
The show has gained international popularity among both exhibitors and visitors due to Croatia's importance as a boating destination and Ilirija's well managed facilities including Marina Kornati, Ilirija hotels, restaurants, and entertainment facilities. Ilirija will continue to work to provide a safe environment, and will also revive the legendary entertainment program and social events in line with prevailing health conditions. It is important that both the boating industry and the boating public have an event that inspires passion and optimism for boating on the Adriatic… This is the Biograd Boat Show experience!
Central Europe's Gateway to the Sea
Each year, Biograd plays an important role for domestic and international boaters. Many people were introduced to Biograd throughout the year as one of the busiest marine transit destinations in Croatia and one of the world's largest yacht charter destinations. Others are introduced through its world class calendar of regattas and events, regardless, the international recognition and reputation of Biograd improves each year.
The Biograd Boat Show is a Member of the IFBSO
The Biograd Boat Show is a Member of the International Federation of Boat Show Organizers, adopting the high standards of the organization and participating in its further development by sharing its unique business model, and is at the forefront of Business to Business activities.
A Brighter Future for Boating
The Biograd Boat Show made its biggest gains in the aftermath of the global financial crisis, growing from a minor regional show to an international show that brought the Adriatic boating region to the world stage. This was done by optimizing Ilirija's nautical and hospitality assets, and creating attractively priced options for exhibitors and visitors resulting in long-term success. In 2022; Ilirija plans to build in its successes to improve its important role in setting a course for a brighter future for boating on the Adriatic.
This year's Biograd Boat Show has sold out its exhibition space and will be held during a very strong boating market, where demand for boats throughout Europe is very high and the supply is tightening. With delivery dates for new boats getting longer and longer, this is the best opportunity to see the largest selection of boats in the region and to secure the best delivery terms and prices.
There will be numerous World and Croatian premieres of vessels, and plenty of equipment and accessories that can be purchased directly, as well as many demonstrations of new products. The show is also known for its gastro and entertainment offerings with good food served in the restaurants, selected artisan food vendors at the Festival of Authenticity, as well as an entertainment program each night after sunset.
Although all exhibition space is sold out, nautical businesses can still participate by registering on the Biograd B2B business to business platform, and have full access to the show and an online Biograd B2B Directory, where they can present their products and services to other participants and schedule meetings in advance.
Photos BBS
https://www.dropbox.com/sh/a5l41yij0ykhggo/AAAsBZr0nqSV7lZ5KOSL4yuCa?dl=0
Vessels BBS premieres
https://www.dropbox.com/sh/2eii1rql7yx1mh0/AACVKPD-10Ng9D5WK_3pffDGa?dl=0
Summary of vessels BBS premieres
https://www.dropbox.com/s/9ulh30uw1xw2t7c/BBS_2022_katalog_premijere_1910.pdf?dl=0
The 24th Biograd Boat Show
More information is available on the website www.bbs.com.hr or:
Ilirija d.d.
Tina Ujevića 7
23210 Biograd
Croatia
info@bbs.com.hr
Tel: +385 (0)23 386 147